The history of Rio de Janeiro gets underway on a little beach between Sugar Loaf and Cara de Cão Mountains, where nowadays one can find the São João Fort, in Urca. The city's own identity is frequently confused with this natural monument which, thanks to some daring engineering at the start of the last century, became one of the most popular tourist attractions in the world. Conceived in 1908 by engineer Augusto Ferreira Ramos, the cable car project that connects Vermelho Beach to the top of Sugar Loaf, was inaugurated in 1912 and has, ever since, helped to place the Marvelous City on the world tourist map. This was an ambitious and daring project at the time and employed approximately 400 "climber-builders". The first phase was inaugurated on October 27, 1912, connecting Vermelho Beach to Urca Hill with the 538 meters of cable. The second line, from Urca Hill to the top of Sugar Loaf, 815 meters away, was opened three months later, on January 18, 1913.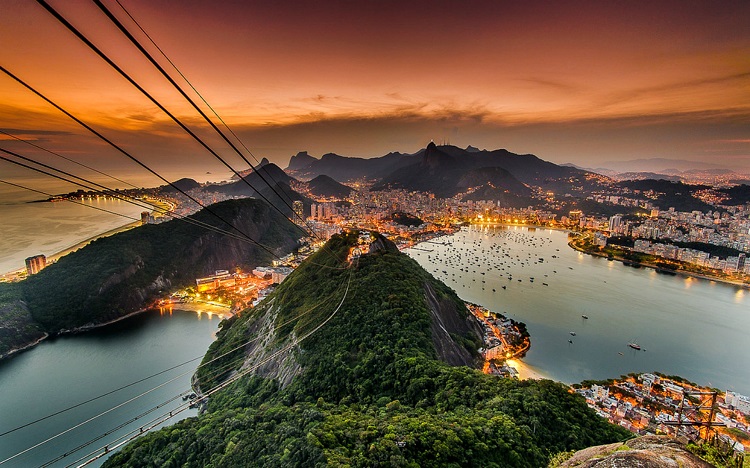 The end destination of the journey, this imposing, rocking outcrop, rising 396 meters above Guanabara Bay, opens up a privileged view of the wonders of Rio de Janeiro. A slightly shorter Urca Hill, at 220 meters high, offers an entertainment venue with stages for shows, events and even important congresses. In 2012 the cable car system celebrated its hundredth birthday with impressive numbers: over 37 million people had been transported between the hills, at an average of 2500 people per day. The development went through a complete overhaul that was concluded in 2009, at a cost of R$8 million. The cable car tickets that are sold at the Vermelho Beach ticket office, are only valid for the same day. Sales for other days are only available via the Internet. The ticket office opens at 8 AM and closes at 7:50 PM. The cable cars leave every 20 min, and start operations at 8:10 AM with the first trip from Vermelho Beach to Urca Hill, and the last trip leaving from Urca Hill to Vermelho Beach at 9 PM.
Click here for the whole information about time, prices and ticket sales on the website.
ADDRESS
Avenida Pasteur, 520 – Botafogo, Rio de Janeiro – RJ
Phone: +55 21 2546-8433
WEBSITE www.bondinho.com.br