Blessed with an abundance of natural beauties, among which are vast protected green areas and numerous splendid beaches, Paraíba is also known for its rich history, that includes one of the oldest urban centers in Brazil.
Paraíba's shoreline extends itself for 138 km, starting north at Lake Grajú's estuary -where it shares a border with Rio Grande do Norte – and reaching as far as Goiana Lake's estuary, where it meets the state of Pernambuco.
The humid tropical climate of this paradisiacal place entices the visitor to explore the approximately 55 different beaches, made of white sands and turquoise waters, embroidered with inlets, bays, harbors, havens and basins.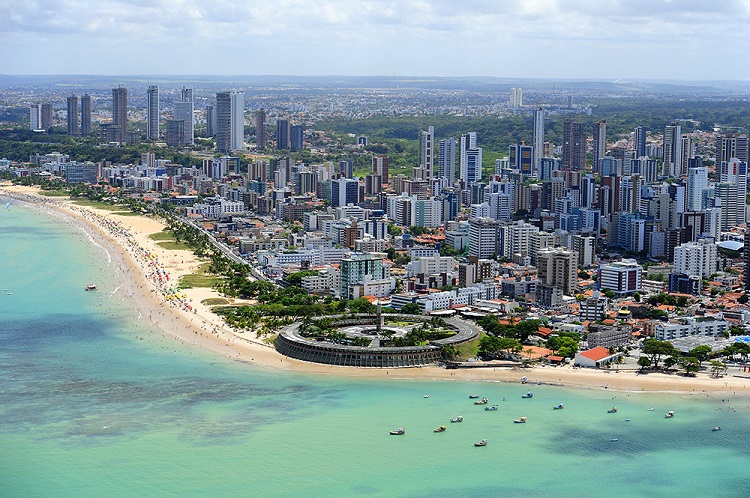 The state's capital, João Pessoa, is number six in a list of the best cities to live in Brazil, being located only 30 km apart from the pristine ocean and a coastline punctuated with coconut palms and cliffs.
The city of João Pessoa has become a main touristic destination, be it leisure, ectourism or commercial, especially since the construction of the modern João Pessoa Convention Center
Besides the obvious allure of the capital, where traditional forró music and regional dances set the tone, those who search for an even deeper contact with the state's cultural life might find it at Ingá, where the enigmatic Itacoatiara monument is located.
Other options include visits to the plantations in Brejo, where the country's best sugarcane liquor is produced, exploring the fossilized tracks in the Valley of the Dinosaurs', or just enjoying the sunset at Lajedo do Pai Mateus in Cariri.
As a whole, Paraíba bears the mark of a strong identity, that can be seen in the craftwork, traditions, and gastronomy found in the area.
Acompanhe também nossas dicas no instagram @EmbarquenaViagem e use a hashtag #EmbarquenaViagem para marcar suas fotos de viagem, dicas de lazer, hospedagem, entretenimento e cultura.
Embarque na Viagem, o melhor do Turismo, Hospedagem, Lazer, Entretenimento e cultura